bpost Mobile Postcard
bpost has entrusted DJM digital with the creation of an application that allows its users to send a personalised postcard directly from their smartphone.
Since its launch in 2011, 800,000 postcards have been printed and sent each year.
Mission
bpost is the leading postal operator in Belgium, with a unique and integrated network for domestic mail and parcels. In addition to its distribution mission, bpost is an important player in Belgian society, offering a range of innovative solutions for citizens, particularly in terms of financing.
This is why bpost wanted to develop a digital application for its users, which would be innovative and fun to use, combining both the postal service and digital technology.
DJM digital was chosen to develop this powerful tool, which makes it easy to send personalised postcards directly from a smartphone.
Challenge
The application was intended for a wide audience and had to be easy to use for as many people as possible. A simple and clear mechanism had to be put in place.
In addition, a reliable and efficient payment system had to be integrated.
Finally, the application had to relay the information collected to the entire logistics chain, from printing to sending the postcards, in a very short time.
Solution
DJM digital was responsible for the complete development of the application, from technical development to design, from integration into the app store (Mac and Android) to the management of information collection by the various service providers (printer and postal service).
The first version of the application was launched in 2011. Following its success, it was redesigned in 2018. The new version has improved the user experience through the use of even more visual and intuitive card design steps.
Now, a video message can be added to the card, which can be read via a QR code printed on the card, which can be scanned by the recipient.
The user downloads the Bpost Mobile Card application.
They compose a postcard using photos taken with their smartphone.
They choose a layout, select one or more photos, crop them and add a background if necessary.
They can also include a link to a video message that they have previously recorded.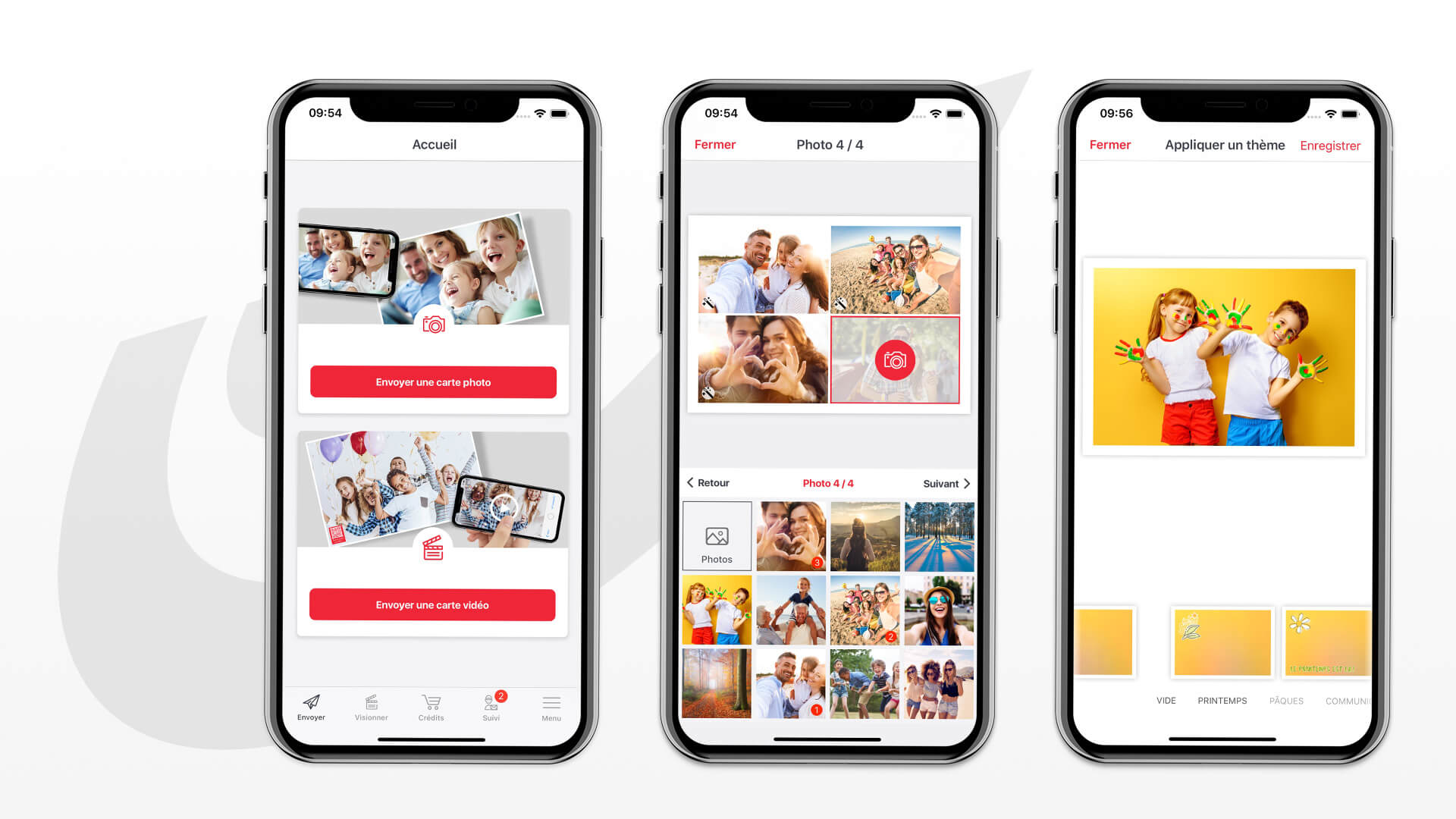 They can then add a personal message that will be printed on the back of the card.
The sender then determines the recipient(s) of the card, which can be saved and reused as they wish.
They make a payment or buy several credits (which reduces the cost per unit).
Finally, the cards are sent by post, and the recipient(s) finds it in their mailbox a few days later (or on a date chosen by the sender).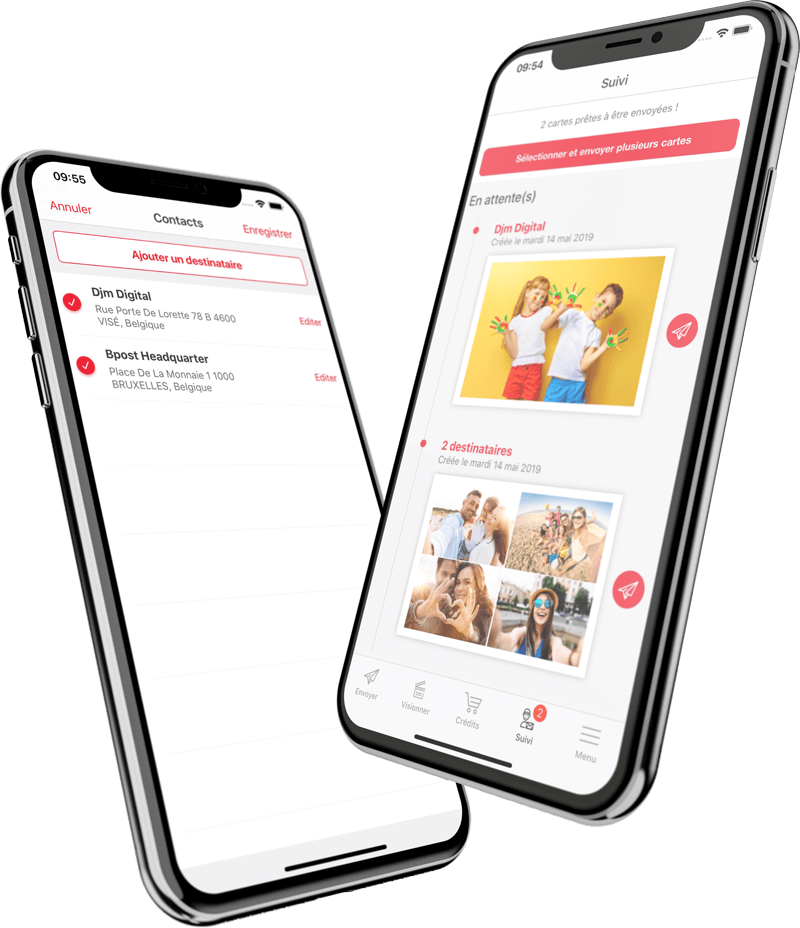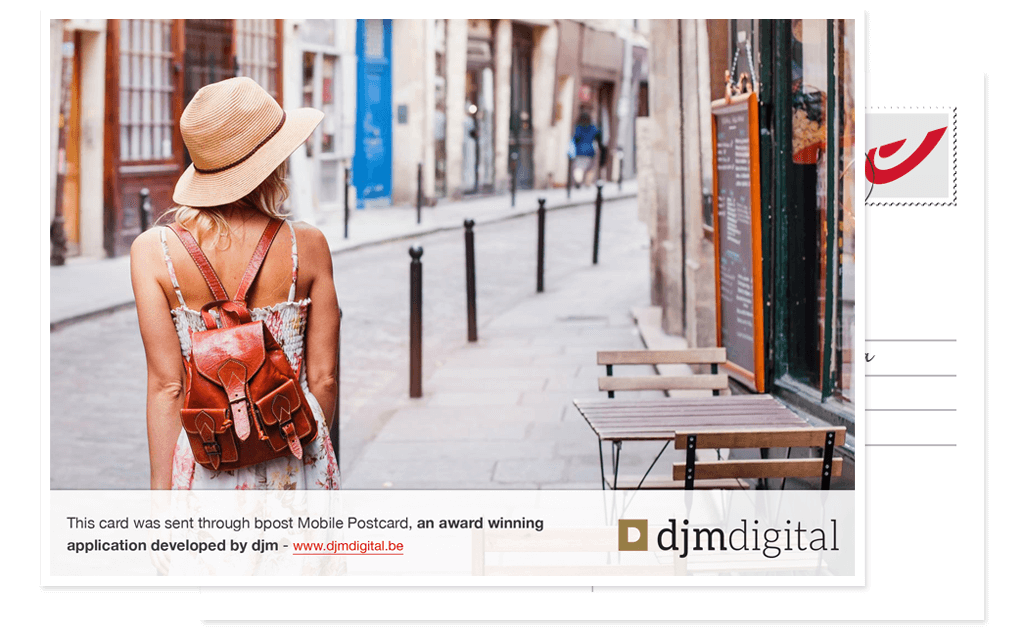 Results
800,000 postcards sent per year,
Number of downloads of the application: over 200,000,
bpost Mobile Postcard is in the top 5 of Test-Achats' best applications and the top 100 of the most downloaded applications in Belgium,
This application conveys a positive image of bpost's services, which are both close to their customers and at the cutting edge of technology.