AGC Glass Europe
AGC Glass Europe is an international group specialized in the production and transformation of flat glass for various fields such as construction, automotive and solar.
DJM digital is honoured to have established a solid and long-lasting partnership with this world-renowned player. We currently work for two AGC Glass Europe subsidiaries, Active Glass and Clara by AGC.

Mission
Establish their authority in the field by generating maximum traffic to their website
Provide strategic support to the internal community management team
Boosting brand engagement through various channels
Generate qualified leads through a ROI-driven acquisition strategy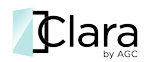 Mission
Supporting internal teams in defining the brand's positioning
Define the target audience and a long-term strategy based on the AARRR model
Develop a social media strategy
Define and implement an acquisition strategy, as well as the tools needed to achieve it
Solutions
In-depth SEO audit to assess current brand positioning and growth opportunities
Implementation of targeted campaigns on the Google search network (SEA)
Team coaching and community management training
Launch of sponsored campaigns on LinkedIn
Content integration, webmastering and SEO
Solutions
In-depth audit of the presence on social networks as well as the e-reputation of the brand
Extensive benchmarking and identification of best/poor practices
Reflection and implementation of a strategy adapted to each channel/target
Launch of sponsored campaigns on all social networks
Creation of landing pages for each target using artificial intelligence and Smart Traffic
In order to provide comprehensive support, all these strategies are accompanied by extensive reporting, weekly meetings and, of course, close collaboration in order to optimise the strategy on the basis of real data and the business knowledge of our partner.
Results
Better positioning in the SERP
Significant increase in organic traffic
Improved bounce rate due to optimal targeting
Increased engagement rate on LinkedIn
Increased number of qualified leads per month
Results
Strong increase in the rate of engagement on social networks
Increase in the number of subscribers on the different channels
Generation of qualified leads in the first month of the campaign
Drastic increase in website and landing page traffic
AGC Glass Europe
The collaboration between DJM digital and AGC Glass Europe initially began with the subsidiary AGC Active Glass. This brand develops and perfects glass solutions with LEDs and integrated photovoltaic cells for various facades. On the strength of this success, the AGC Glass Europe team has once again placed its trust in us by asking us to digitally boost another of its subsidiaries, Clara by AGC, which offers innovative and modern door and window solutions.
This partnership is long-lasting and has grown stronger over the years.
DJM Digital has become my go-to partner for digital campaigns and improving the overall online footprints of our brands. Foremost, I appreciate their ability to think along the process and offer insights, coupled with a variety of options to achieve the set goals.
Your digital partner since 1999
Christophe
- Digital Marketing Specialist at AGC
Your digital partner since 1999