Do you want to start your own eShop but have a lot of questions? In this FAQ, we will answer the most frequently asked questions from our customers.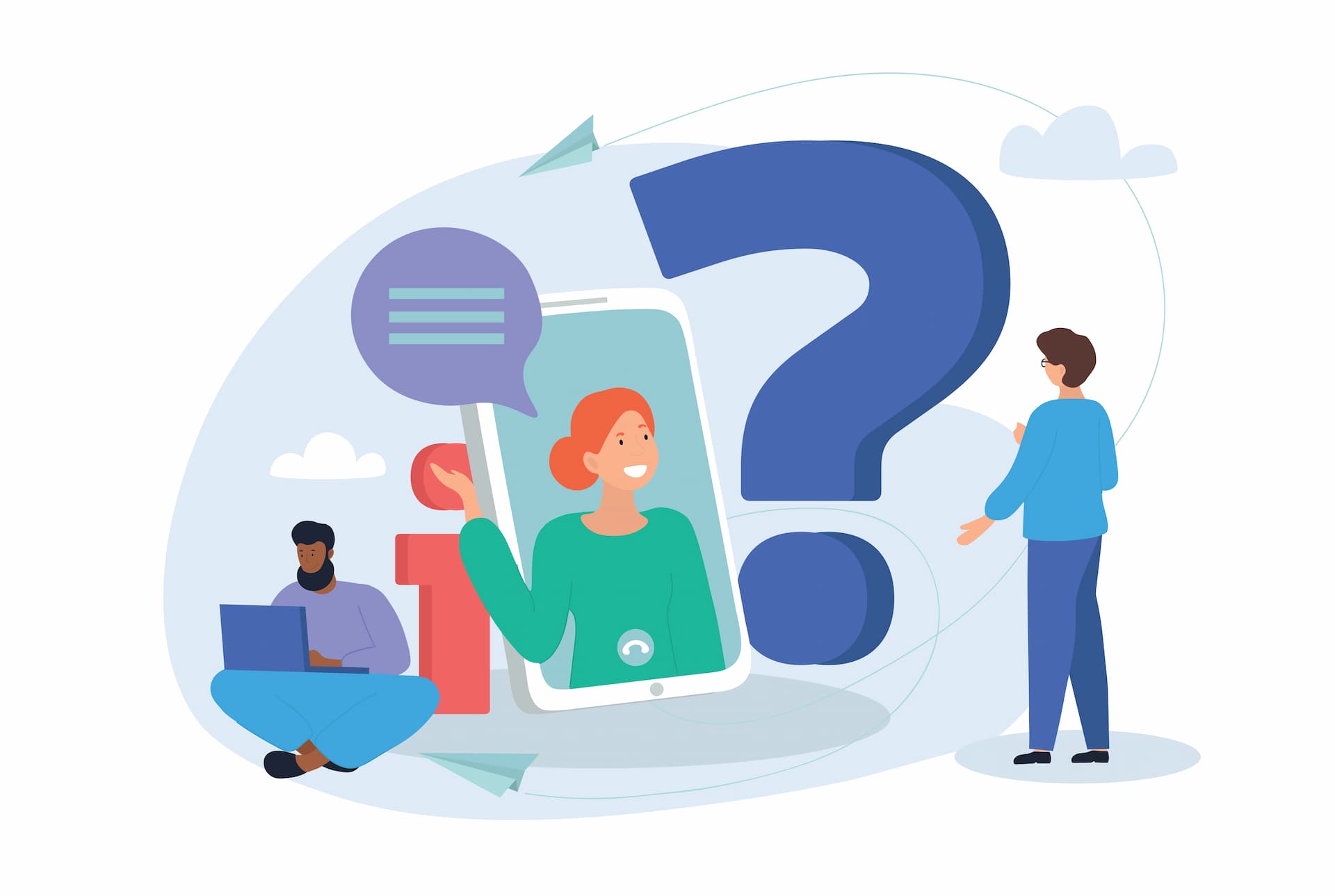 1. What should I consider before creating my eShop?
Your target audience
First of all, you need to define your target audience. This step is essential because your eShop will have to be adapted to this target. To do this, create personas. These typical profiles represent your target and will give you an overview of the identity, behaviour and motivations of your audience. Based on these elements, you can then create the design of your e-shop. You can define an editorial line and a visual identity that correspond to your brand, and that perfectly matches the expectations of your target audience.
Your market
Before you start creating your eShop, you need to know your market. As part of your market research, you will need to determine its size, potential, competitors and market trends. Then position yourself in relation to your competitors and find your unique selling point (USP). By providing real added value, you will be able to attract new customers to your eCommerce and highlight your competitive advantages. Note that the strengths of your competitors can provide ideas for your own shop.
Managing logistics
Selling online involves managing stock and deliveries. As far as stock management is concerned, we won't go into detail, but you should know that there are different methods:
just in time
first in first out
last in first out
demand forecasting
inventory.
Choose the method that best suits your company in order to limit the various problems linked to stock management: under-stocking, over-stocking, inventory errors, lack of a centralised stock management system, etc. Depending on your objectives, you can choose to manage your stock yourself or outsource it.
Delivery plays a key role in the customer's shopping experience. Indeed, your customers will be more satisfied if they can choose their preferred delivery method and if the delivery costs and time are minimised. If not, they will probably not use you again and may share their dissatisfaction. There are many options for delivery. To keep your prospects happy, allow them to choose from a wide range of delivery methods. Among the most popular are home delivery, delivery to a relay point, pick-up at your premises, etc. Detail them and highlight the advantages if there are any (delivery in a few days, free delivery, etc.).
Payment methods
Just as with delivery methods, we encourage you to diversify your payment methods as much as possible. Here are the 5 main payment methods: Paypal, credit card, bank transfer, payment on delivery, payment on the spot (when picking up your order in a shop) and gift card.
Regulations
In relation to the rules linked to your sector, ask yourself the following questions:
What are the general terms and conditions of delivery, sale and your legal notices?
What is the legislation in your territory?
What is the legislation concerning personal information, cookies, and privacy?
What are the cancellation terms for your customers?
Do you apply any Ecotax?
What tax rules do you have to follow?
Are you subject to sales tax?
If you have customers outside the European Union, what other taxes must you take into account?
In relation to eCommerce regulations in Belgium, you must comply with the following requirements:
Identification of the company:
the e-tailer must clearly display its identity (name or company name),
its geographical address
its company identification number
its intra-community sales tax number
the company's share capital
its email address and telephone number
The terms of sale:
display the product details
the 14-day cancellation period displayed on the site
guarantee of a maximum delay of 1 month
general terms and conditions of use displayed on all pages
display of promotions as a percentage of the reference price
no boxes to be ticked by the customer
a confirmation button on your site including the words "order with payment obligation"
acknowledgement of receipt sent at the latest on delivery each time a customer places an order on an eCommerce platform
The resources needed
Obviously, creating a quality online store requires resources. It must offer the best possible user experience and every detail counts. You can choose to create your site yourself or hire experts to guarantee your results.
If you choose the second option, work out a price together according to your needs (the simple creation of a small eShop does not require the same budget as the creation of a customised and optimised eShop with support).
For your online sales site to be viable, we advise you to plan a budget for:
the creation of the site
hosting
purchase of the domain name
shipping costs
return shipping costs
marketing
2. What kind of content should appear on my eShop?
Blog
You can write blog articles related to your business (news about your company, product comparisons, expert interviews etc). With these articles, you can share information about your services and products, offer advice and show your expertise. However, to make your articles effective and more visible, make sure you optimise them to boost your natural search ranking (keywords, Hn structure, internal linking, backlinks, sharing on social networks, etc.).
White papers
The white paper is an excellent way to collect email addresses that will be used to feed your marketing strategy. By transmitting very precise, detailed information to a qualified audience, you attract future customers while increasing the visibility of your website and your credibility.
About page (storytelling)
The "about" page is used to present your company and its history and to create a link with your prospects. It is therefore very important as it helps build readers' trust in your expertise.
Buying guide
With buying guides, you have the opportunity to inform users about your products and direct them to the ones that are best suited to them.
Video tutorial
Today, video is one of consumers' preferred formats. This format allows you to showcase your products and their use.
This format will capture the attention of your target audience. However, be careful to keep your videos short, around two minutes, so as not to lose your prospect's attention.
FAQ
Frequently asked questions allow you to easily answer your customers' most frequent questions. The topics explored can be multiple and include:
your products
delivery
payment methods
any other issues that might raise questions for your eShop visitors
Be sure to remain neutral in your answers, as the original purpose of the FAQ is not to sell but to provide a service and the best possible experience.
We strongly advise you to write FAQ questions in the first person to personalise the information and to rank on search engines for queries in the form of questions.
Product sheet
A product sheet contains all the technical, marketing, logistical and administrative characteristics of an item for sale on an eShop. It should therefore include :
dimensions
weight
the price
the product number
a description highlighting the advantages of the product
logistical information
any other important details relating to your product
3. How do you make your eShop user friendly?
A responsive design
Smartphones are the most used device, ahead of computers and tablets. Your website should therefore be responsive and adapt to the format of the device used.
If your website is not easily readable on a mobile device, the user experience will be affected. Your website will also be less well referenced by search engines, and your bounce rate will be high.
Fast and easy navigation
Did you know that every page a user searches for should be accessible in just three clicks? Did you also know that the loading speed of your site should ideally not exceed 100 to 200ms? Indeed, your online store must be easy to navigate for your audience and the search engine algorithms. In order to be well-positioned in the SERP, we strongly recommend that you apply these tips.
Thoughtful colours and visuals
The choice of colours and visuals for your eShop should not be taken lightly! Be aware of trends and adapt your visuals and colours to stay in fashion (according to the seasons, for instance). Be careful to keep the same visual identity for the key elements of your world so as not to confuse users.
4. What should be the essential features of my eShop?
Customer reviews
Offer your customers the possibility to leave reviews directly on your website. These reviews are essential because they reinforce your credibility and reliability. So make it easy for your customers to leave reviews on your website. To do this, there are various customer review solutions such as directories, Facebook and Google My Business.
Multilingual
Are you targeting different languages? Your eCommerce must be translated. If you are targeting Belgian consumers, make sure your site is available in French and Dutch, at the very least. We recommend that you have your site translated by people who know the language to avoid language errors.
Intelligent searches
Are your products well divided into different categories to make it easier for the user to find them? Take the second step and implement an intelligent search engine on your site! This way, users who have a clear idea of what they are looking for will be able to search for the product directly by typing keywords in the search bar.
Chat
Allow your curious customers to ask you their question(s) directly via a "chat". This feature allows the prospect to get an answer as quickly as possible without having to call customer service.
This makes for a much smoother user experience. If you choose to implement a chat on your site, you have several options:
You can choose to answer live questions yourself (live chat). This solution is most often recommended to maintain the human aspect of your customer services.
Or opt for a robot, called a chatbot, which answers the most frequent questions automatically when the requests are launched.
Share buttons on social networks
Social networks are a very simple way to increase your visibility. By allowing consumers to share your site on social networks, your customers become brand ambassadors.
Newsletter subscription
Like white papers, a newsletter will allow you to collect email addresses that are valuable for follow-up with your customers and prospects.
Building up a large database will allow you to send them automatic emails with your emailing marketing solution.
5. How will I generate traffic to my eShop?
Content marketing
This marketing technique consists of creating content in different media in order to:
communicate with your audience
increase awareness of your company.
SEO
Search Engine Optimisation is the set of methods that aim to improve the position of your website pages in search engine results.
SEO can be divided into 3 parts:
the technical part (the container),
on page (the content) and
off page (popularity).
It is important to choose a good selection of keywords so that your content appears in relevant searches. These keywords should be inserted in the various elements of your page (title, title tags, meta description, content, etc.)
Then, don't forget to produce quality content if you want to stand out from the competition and appeal to the search engine algorithms.
The different components of your page, as well as your content, should all be optimised for SEO. It is essential to set up quality internal links to facilitate and enrich the navigation of your website for users and algorithms.
Finally, create content that will be likely to generate backlinks. Youtube videos, podcasts, webinars… all these are content that will generate good backlinks.
SEA (google shopping, display, search, video (Youtube)
Search Engine Advertising is paid search marketing.
The objective of SEA is similar to SEO: to get your website listed in the search engine results for keywords that relevant to you.
To engage in paid search, we recommend the Google Ads tool. It allows you to create campaigns on different networks such as:
the search network
the display network
shopping
video
applications
Social networks
Social networks have become a very powerful sales tool! Each social network has its own "business" version that allows brands to create campaigns and ad groups by precisely targeting the audience.
The question to ask yourself is: where is my target, and how can I reach it?
Depending on your business, you can also use influencers or content creators. By choosing the right content creator based on their community and area of expertise, you can promote your products to your target audience.
Influencer marketing can provide:
promotion of your products,
increased visibility,
improved brand awareness and
boosted conversions
Email
Thanks to email, you can communicate on a large scale with your database via automated and customisable emails. Thanks to this customer acquisition and loyalty channel, you can introduce your brand, follow up with customers or consumers who have shown an interest in your products, etc. We advise you to test your emails before sending them to avoid errors.
In conclusion, the creation of an efficient eShop requires a certain number of resources and preparation upstream. We advise you to consult experts who will guarantee you better results.
Did you like this FAQ, and would you like us to answer more of your questions? Send them to us!