What marketing solution can help you to generate customer trust simply, efficiently and without requiring a lot of long-term resources? We have the ideal solution, and that is transactional email!
When defining an emailing strategy, it is not unusual for some companies to focus on email marketing.
Email marketing refers to automatic emails sent to one or more sets of prospects, to generate the sale of a service or product. By focusing on this type of email, some companies spend less time on transactional emails. But transactional emails represent a powerful opportunity to maximise customer trust and loyalty, as well as cross-selling and up-selling.
Transactional email, also known as "trigger marketing", is a one-to-one email the sending of which is automatically triggered by a user's action. The significant advantage of transactional email is its opening rate! Unlike other types of email, the transactional email is expected by the customer, and this allows it to achieve an average opening rate of 45%. In comparison, promotional emails achieve an average opening rate of 20%. Moreover, the opening rate is not the only metric that is on the rise, as the click rate is also higher for transactional emails (on average, 10% against 3.2%).
Transactional email is, therefore, a tool that should not be neglected in your company's marketing strategy, whatever your sector of activity, especially for e-commerce. In this article, we explain how to take full advantage and make it an important commercial tool.
1 – Optimise your customers' experience
Have you ever placed an order online without receiving a confirmation email? A bit stressful, isn't it? The confirmation email provides reassurance that your order has been received. Without it, you may wonder, "Has my order been processed?"
The order confirmation email is one of the transactional emails that are essential to providing a positive experience for your customers. Transactional emails also include
account opening confirmation,
email address verification,
password reset requests,
confirmation of sending and receiving an order,
customer feedback requests,
shopping cart abandonment emails
All these emails occur at different stages of the customer journey. It is important to take care of each contact with your customers throughout their journey, sending them the right message at the right time. Not only will this have a positive impact on the customer's trust in your brand, but by optimising the customer experience in this way, you gain credibility and promote customer loyalty.
To guarantee customer satisfaction, it is not enough to send a transactional email; it must also be sent at the right time. In most cases, the delivery time must be very short. The user expects to receive an email as soon as they have performed the action in question. To send a quick response after an action, Marketing Automation tools are valuable weapons.
2 – Bring out your brand identity
It is possible to make transactional emails impactful and fun! A strong graphic identity, an original tone of voice, a recurring concept, attractive and relevant content… Who said that transactional email should only be functional? On the contrary, in addition to providing the information your customer expects, adding value can only be positive. Dare to be original. Stand out from your competitors by taking full advantage of transactional emails to assert your brand identity.
Below are some examples of brands that have succeeded in bringing originality and identity to transactional emails. Ace & Tate came up with an original idea in line with their brand identity: celebrating the "frame-aversary" one year after the purchase of a frame. Bond Touch, on the other hand, attracted our attention with a shopping cart abandonment email with a direct and familiar tone of voice. The graphic identities of each of these brands are clearly recognisable in both emails.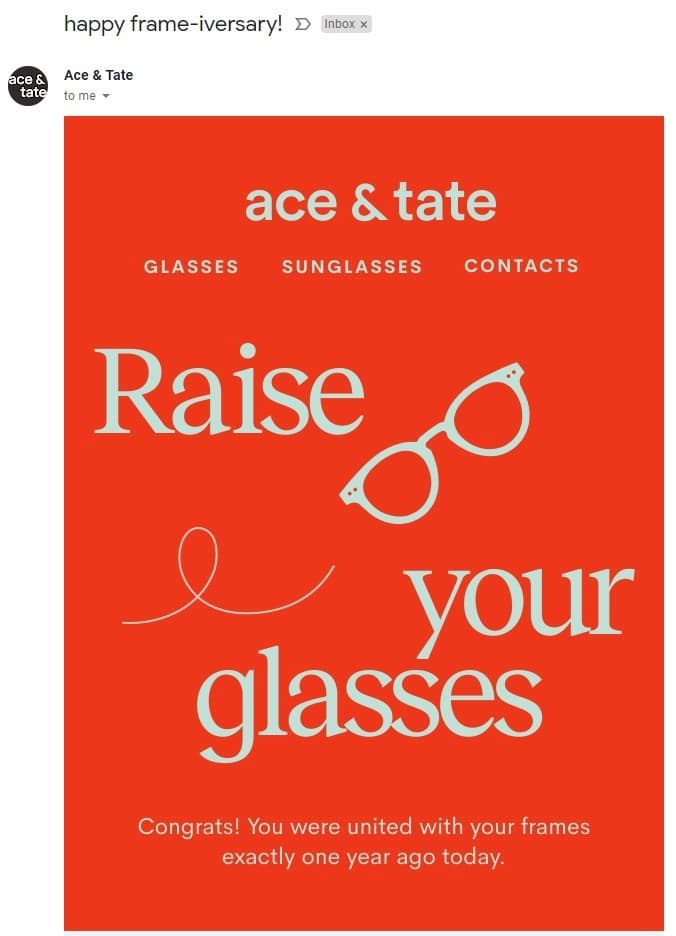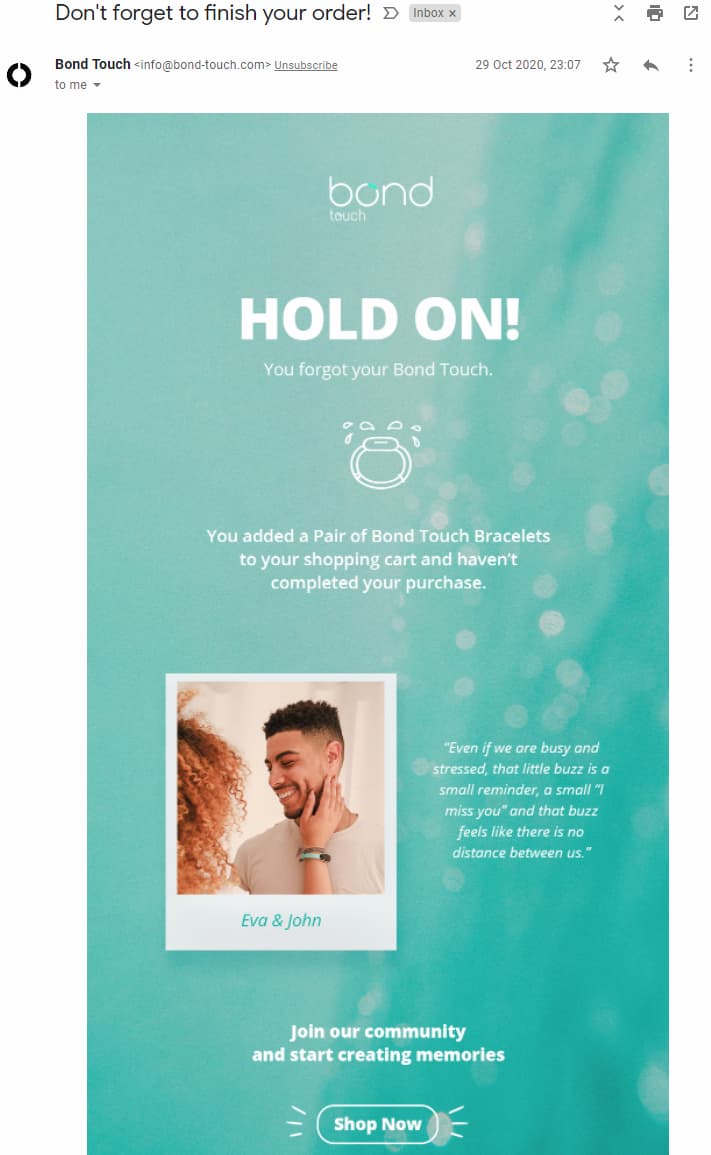 3 – Unite your community
Using a transactional email to invite your customers to join your community on social networks, to leave their opinion or create content (User Generated Content) will allow you to create a feeling of belonging or membership in your community. These are also good ways to create engagement and get your customers to interact with your brand.
Desenio has understood this. They have integrated a paragraph and CTA in an order tracking email inviting customers to discover their Instagram account. Another example of this is an email from Ace & Tate requesting feedback. True to their "tone of voice", it arouses curiosity with a catchy email subject line ("we like you, but do you like us?") and then invites customers to leave a review via an interactive form.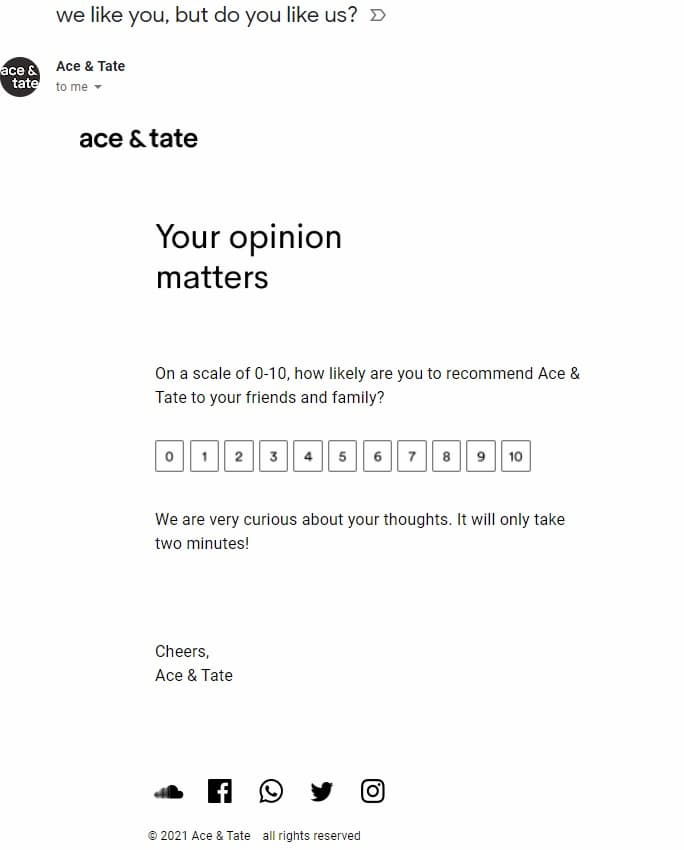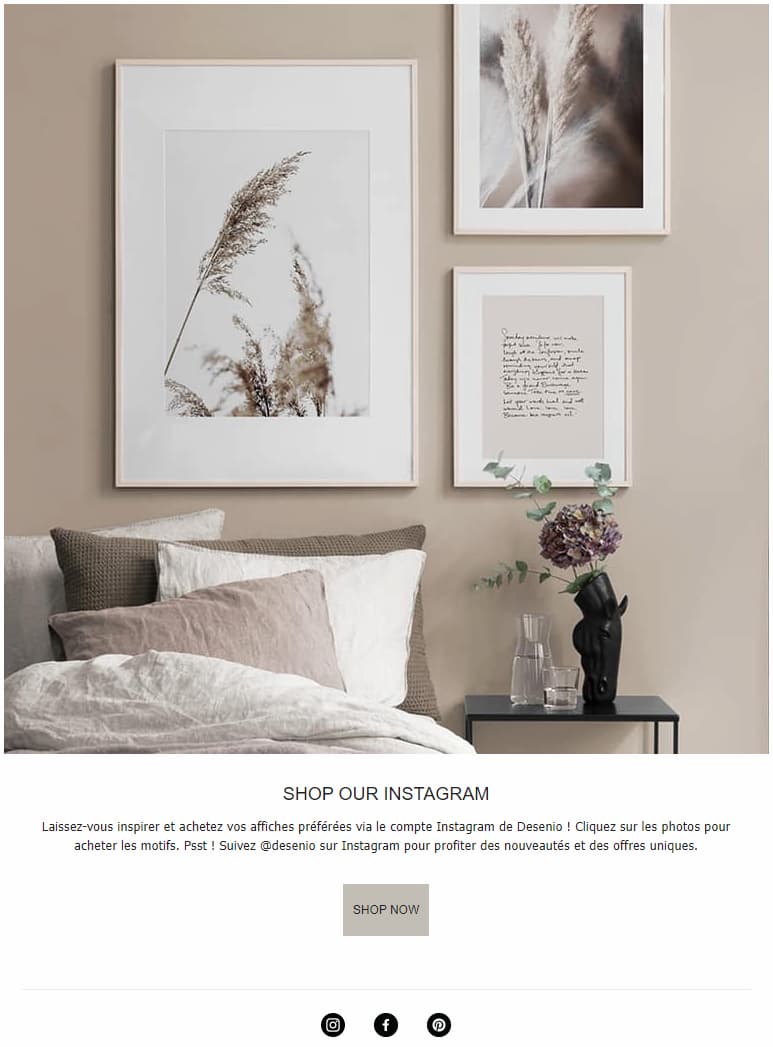 4 – Encourage up-selling and cross-selling
With their high open rate, transactional emails represent a significant opportunity to increase your sales.
Many up-selling and cross-selling possibilities can be integrated, such as
Suggesting similar products or associated and complementary offers
Offering personalised products related to previous orders
Promoting a specific offer such as free delivery or a promotional code for a future order
Inviting entries to a competition
Inviting you to refer a friend
However, don't forget the primary purpose of transactional emails: to respond to a user's action. Up-selling or cross-selling should therefore be the secondary message of your email.
Below you can find examples of brands that have managed to find the right balance between the informative content expected by the customer and up-selling or cross-selling.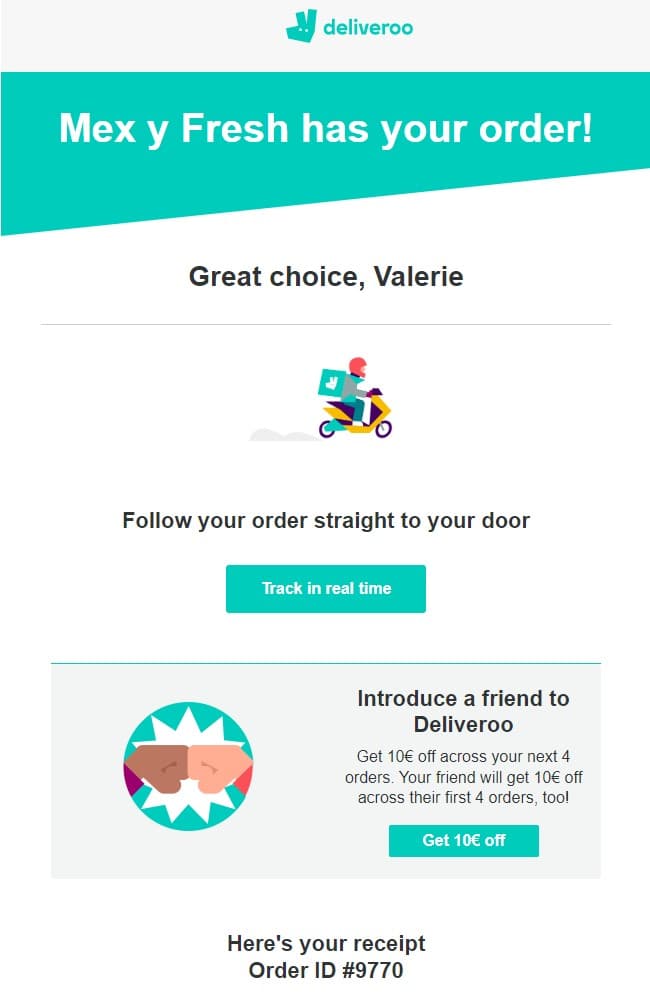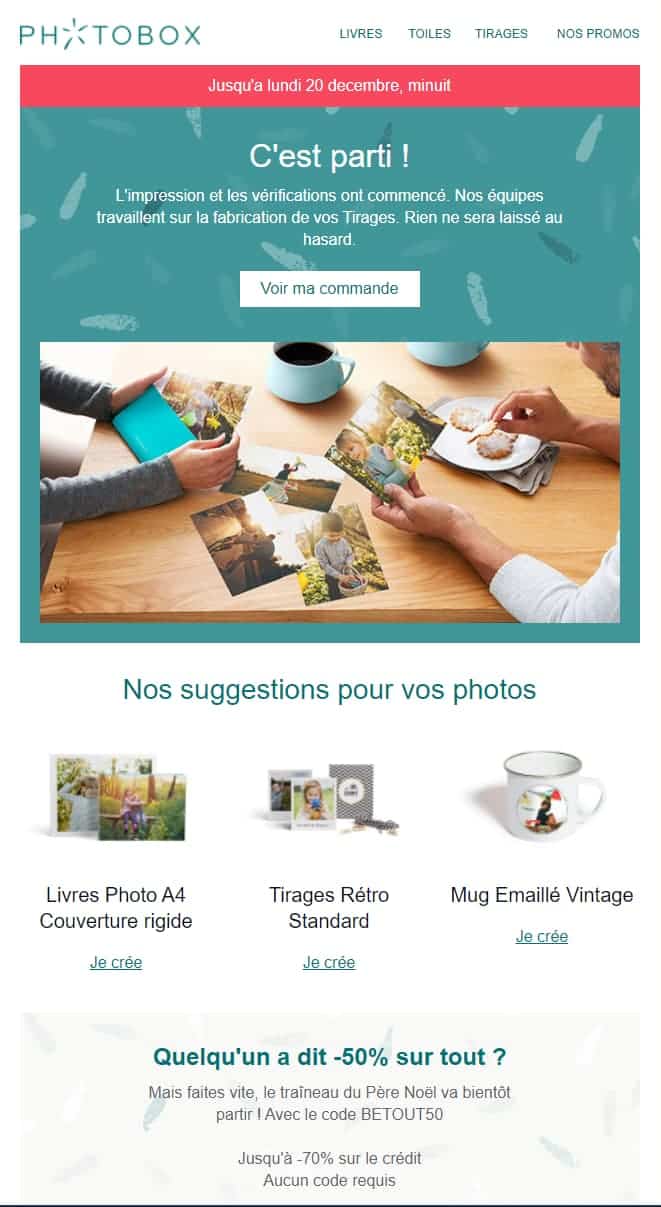 The transactional email is at the heart of the customer relationship. Thanks to upstream thinking and automated sending, in the long term, few resources need to be mobilised. Transactional email, therefore, represents an important and effective opportunity to promote your customers' trust, highlight your brand identity, unite your community and become a commercial tool for cross-selling and up-selling.
Your digital partner since 1999