Still not at the top of the search results?
As you know, there is a direct link between your search engine ranking and the flow of traffic to your site. A good search engine ranking guarantees you more visitors, and consequently, more conversions and sales.
To optimise your SEO, the first step is to know where you stand. Start by carrying out an SEO audit in order to get a clear view of the work to be done, to identify the strong and weak points of your site and to find areas for improvement. Once this is done, you can then start to implement the necessary optimisations.
In this article, we will guide you through the algorithms and give you some expert tips on how to improve your search engine optimisation.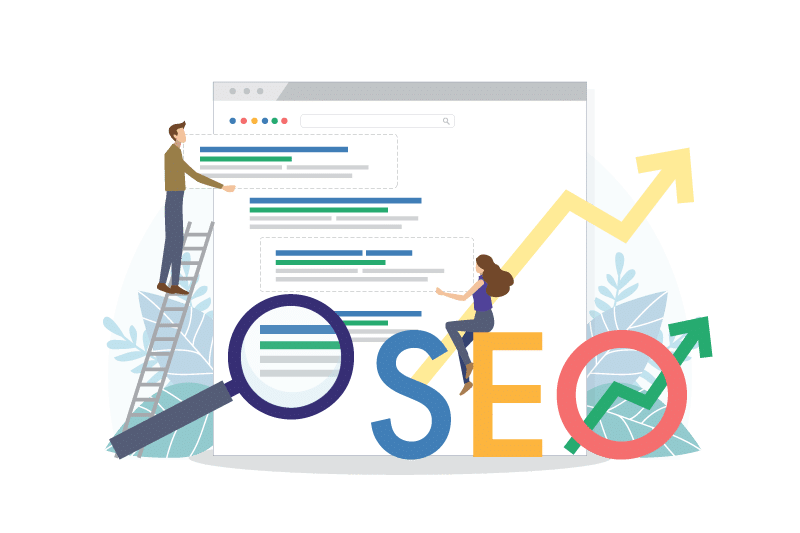 How do Google algorithms work?
Algorithms and quality raters
Google has firmly established itself as the number 1 search engine. As a result, it is mainly the criteria defined by this giant that govern web indexing. In tangible terms, depending on the query submitted by the user, the search engine will display the corresponding results in a certain order according to various factors measured by its algorithms. Then, people called "quality raters" are hired by Google to analyse and assign a quality score to the different websites. The objective of these examiners is to ensure that the algorithms have evaluated them correctly.
Search engine optimisation in constant development
You need to be aware that Google's algorithms are constantly evolving. There are about 9 updates every day! So, the way in which web pages are ranked in SERP evolves very regularly. Most of these updates are minor and have little influence on the indexing of websites. But some of them, such as Caffeine, Panda, Penguin or (more recently) BERT, have a very important impact on the positioning of sites. Content can therefore be considered as meeting the SEO criteria one day, and drop in the ranking the next day due to a change in the algorithm.
But what are these SEO criteria and how can they be met? Some of the criteria are well known, such as page load speed, keyword relevance or the internal linkage of a website. Google announces most of its updates, enabling webmasters to prepare for algorithm changes. But sometimes, the search engine also applies updates "in secret", such as the Phantom update that made many SEO experts shudder.
However, there are still a few rules to follow in order to tame the algorithms and to approach their future updates more confidently.
How to become Top Rank, and stay there
Solid foundations
Before even thinking about improving your content, make sure your site is well set up technically. This includes having an efficient server, a secure connection, a consistent sitemap, internal redirects, relevant markup and structure. The size of your images and your site's code must also be minimised as much as possible. All these optimisations will make it easier for Google's crawlers to find your platform.
The EAT criteria
First of all, it is important to observe the EAT criteria (Expertise, Authoritativeness, Trustworthiness). These 3 principles determine whether or not your content is qualitative, and they also reflect your professionalism.
Expertise refers to the author's competence to deal with the subject matter.
Authority is based on the popularity of the site among its peers, measured by the number of external links.
Reliability represents the trust that users have in the site (customer opinions, recognised partners, security, etc.)
User experience
Next, the actions taken by users and the time they spend on your platform will be taken into account. You need to offer the best possible experience to your site visitors, both on PC and mobile. This includes, among other things, the absence of pop-ups, mobile responsiveness, and private and secure browsing. The Core Vitals algorithm also assesses the quality of the UX based on 3 criteria: page load time, visual stability and responsiveness.
Content relevance
To find out how relevant you are in terms of UX and content, you should analyse your bounce rate. A high bounce rate undoubtedly means that your site is not optimal. Also, note the importance of keyword selection when writing SEO content. For more information on this subject, you should read our article dedicated to SEO content .
In summary, the common goal of all these criteria is to provide a comfortable and safe browsing experience for all users.
You need to position yourself with the right keywords in order to be seen by the right people and to offer them content that the algorithm, but also (and above all) the Internet users, will consider to be of high quality… A good SEO expert adapts to the requirements of the search engines but also to their targets and competitors in order to position themselves as a leader in their field.