E-commerce is a proven success. Sales channels are multiplying and, as the omnichannel approach (the communications cousin of cross-channel) advocates, you need to be present everywhere because the user uses all the communication channels that exist at the same time. The era when they chose just one is well and truly over!
The multiplication of sales channels creates new opportunities but also new challenges for websites and e-tailers who must adapt or risk losing business. Choosing to multiply sales channels means not missing any opportunities and maximising your chances of beating your competitors, whether you are in B2C or B2B.
In the age of digitalisation, websites and e-commerce are no longer the only platforms where online sales are possible. Almost all social networks are adapting and offering sales tools directly on their interface. One of the major advantages of these platforms is that they boost and encourage impulse buying and allow you to work on several sales fronts.
The basics
The best-known
Facebook is one of the most used and most popular social networks. It has no less than 2.895 billion users per month worldwide! Currently, its audience is mostly represented by 25-34-year-olds, even though 36% of users are over 35.
As far as e-commerce is concerned, various options are possible:
Create a shop directly on your profile.
Redirect users to your e-commerce platform using product tags.
Sell on Marketplace, which is more C2C oriented.
A Facebook shop, like an e-commerce site, allows you to sell your products online directly on the platform. This "virtual shop" option is currently only available in the USA. However, you can still tag your products in your posts and ads to drive traffic to your website. This will allow you to collect customers' first-party data, which is just as useful!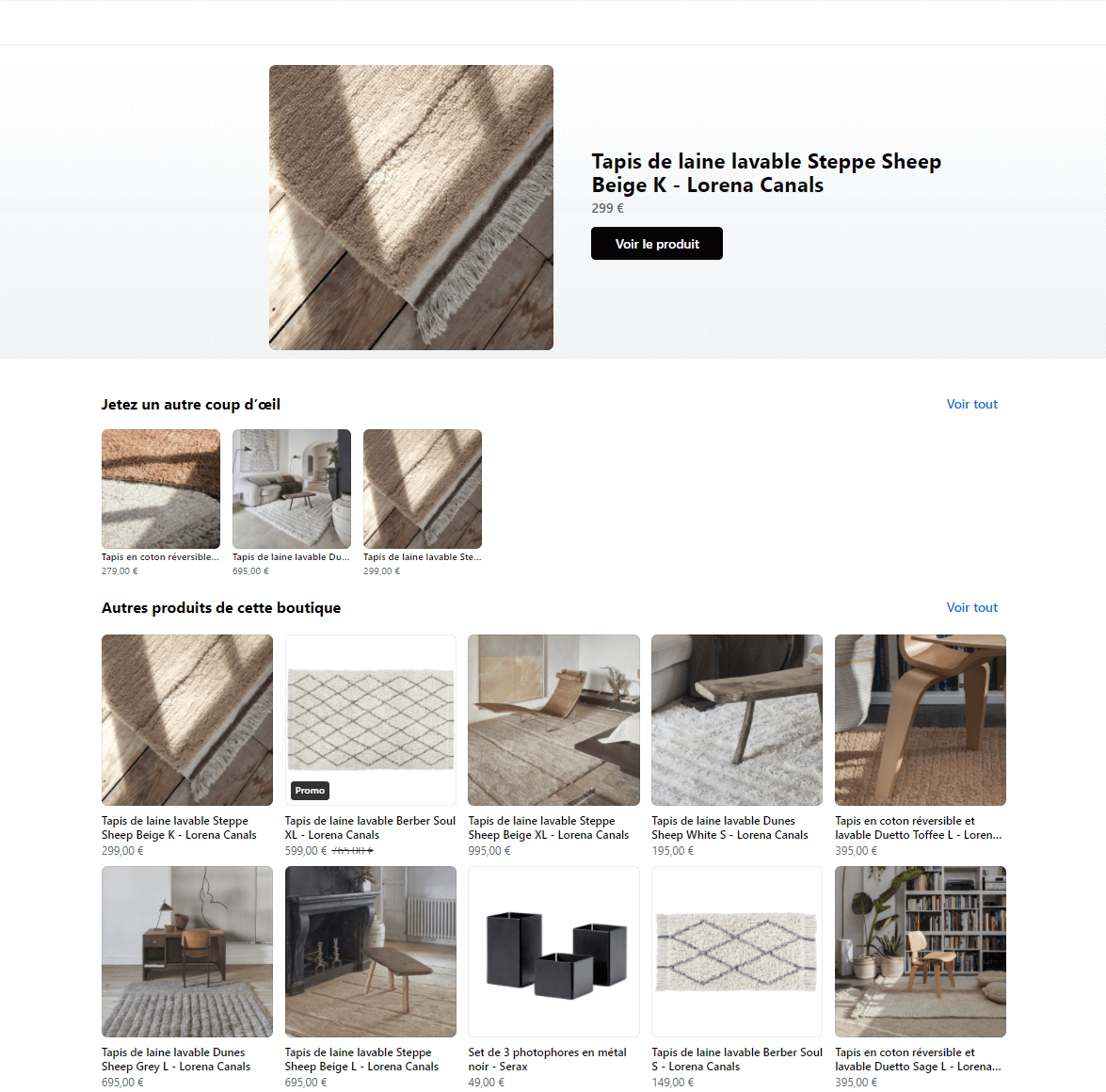 In addition to being a great showcase, the platform offers many digital marketing possibilities through Facebook Ads. For example, you can create carousels that allow consumers to scroll through the most relevant items.
Whether it's via a shop or through Facebook Ads, e-commerce is everywhere on the platform.
The biggest "Wow" factor
Instagram gets over 1 billion users and 4.2 billion likes per day! In addition to having a huge potential for visibility, more than 50% of users claim to have discovered products or services through this social network.
Launched in 2017, the Shopping feature allows users to purchase a product directly on Instagram and, therefore, reduces the number of clicks between product discovery and purchase.
The way it works is quite simple: you open a virtual shop in which you organise your items into collections. You can advertise your items via photos or videos with product tags but also use the stories and the "product launch" options.
Then, your items can be selected by users/influencers, who add them to their guides and so enable your shop, your collections and your items to gain visibility.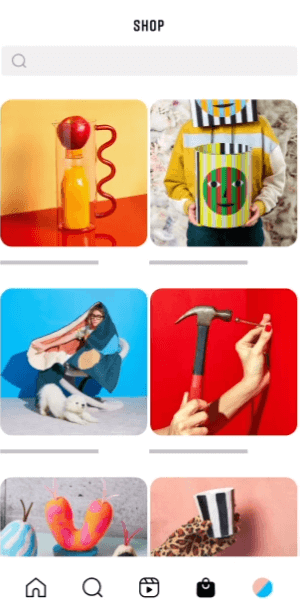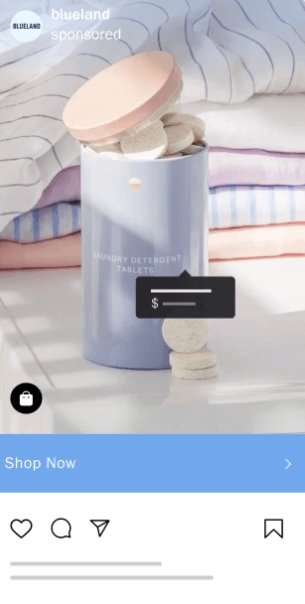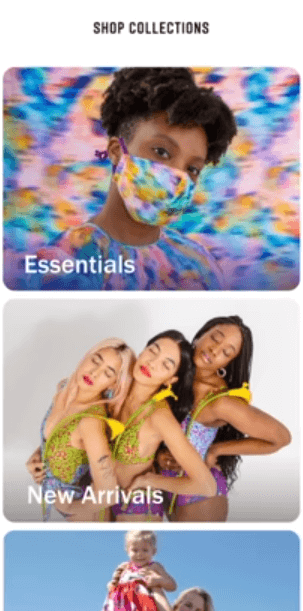 In short, it is possible to create all kinds of content in the form of photos or videos with the aim of selling via the platform (functionality available in the USA). You can also offer to redirect the consumer directly to an article on your website.
The most B2B oriented
LinkedIn is the social business network par excellence. It allows professionals to connect with each other. The platform does not offer the opportunity to make purchases as such, but the social network has developed new features, such as video conferencing, more detailed service pages, the addition of a "reviews" section, and a new "LinkedIn Sales Navigator" package that allows you to generate more leads.
A service page allows you to showcase your business and services at no extra cost and makes them more discoverable on LinkedIn or Google. You can describe your business, list up to 10 services and share it on your account as a post or via a message. The "reviews" option also allows you to ask for feedback from 20 of your customers.
The Sales Navigator package aims to put you in direct contact with the right person, i.e., the one who has the power to decide within the company. LinkedIn also suggests more profiles that are relevant to your search and allows you to connect with people you are not connected to.
These new features allow you to create more opportunities and generate more qualified leads for your company. LinkedIn is not an e-commerce business in the traditional sense, but the social network creates opportunities that you need to convert into sales.
The most underrated
Pinterest has no less than 200 million users worldwide. Similar to Instagram in its aims (to inspire users), it works in a different way by allowing you to collect and share images to create inspirational catalogues.
Like its competitors, Pinterest makes it possible to create an online shop that is available from the front page, and it also offers Shopping ads. Recently, it has developed new features, for example, the product pin.
In your Pinterest shop, you can display your catalogues and collections as well as your pinned products. In order to increase the visibility of your shop, you can use the product pin (where you can integrate the price, availability and a description of the product), which can be promoted and become a Shopping ad. This new feature allows you to showcase the desired product(s). This will gain them more visibility.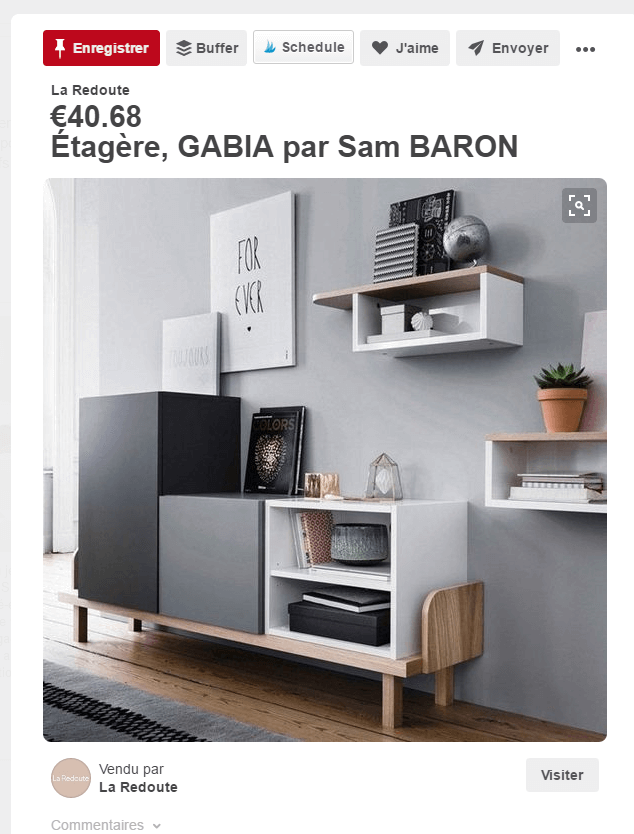 Like other platforms, Pinterest is turning towards e-commerce, allowing you to reach an even wider audience. Don't miss out on any opportunities! Take advantage of this platform which is often overlooked due to lack of knowledge, despite its growing number of users.
The most surprising
Facebook, Instagram, LinkedIn and Pinterest are a group of platforms where e-commerce has already been adopted by users for quite some time, but their competitors are not to be outdone. Like these other social networks, Twitter, YouTube, Tik Tok and Snapchat are also getting into online sales.
Shop Module is being tested for Twitter users (iOS) in the US. Unlike with its competitors, payment is not possible via the platform. Thus, Twitter only serves as a digital showcase using photo carousels at the top of the profile of merchants and businesses.
Like the basics, YouTube offers the creation of a shop to sell your products while users are watching your videos. They will appear below the video in a carousel.
In collaboration with Shopify, Tik Tok has launched its shopping feature. From now on, it is possible to buy directly from your profile and not just via your ads. The platform's strong point is combining shopping and entertainment.
Finally, Snapchat is turning towards e-commerce through augmented reality. The brand has acquired various applications, such as Screenshop and Vertebrae, which allow users to combine virtual reality and online shopping.
Google is getting into the game!
GMB (Google My Business) allows you to provide information about your business (opening hours, location, telephone number, etc.). The better the listing, the better your position in the list of searches. Recently, GMB has also launched an e-commerce service with Google My Business Shopping.
To benefit from this new shop, you don't need to have a website; you just need to reference your products well and provide all the necessary information to customers to help them find your physical shop.
This new feature is in addition to the old ones and allows you to make your GMB file even more complete. The advantage of this approach is that GMB can be directly linked with a number of e-commerce platforms to automatically add products to your listing, which then appear in user searches.
The cross-channel approach
Today's marketing strategies are geared towards a user-centric and cross-channel approach that advocates collaboration between channels. So, don't think of the tools offered by social networks as competitors to your e-shop or physical shop. Take full advantage of their benefits!
Finally, one of the advantages of all these online shops is that they encourage impulse buying: a consumer sees your product and is one click away from buying it! So you make the buying process easier and shorter.
Of course, each platform has its own advantages, its own audience, and you have to define which ones are the most appropriate for your business. However, the benefit remains the same on all of them: the online presence is essential because it means you reach a wider audience and do not miss out on sales opportunities.